Chiropractic Care for Chronic Pain
Natural Pain Relief for spinal injuries, sports injuries, car accident injuries, back pain, neck pain, migraines, and more.
If you are suffering from chronic pain due to back pain, neck pain, sports injuries, or car accident injuries, Dr. Johnson, Your Houston Chiropractor, helps alleviate chronic pain through Chiropractic care. Advanced Chiropractic Relief LLC provides individualized treatment plans, which may include spinal manipulations, manual therapies and therapeutic exercises.
Chiropractic Care for Neck Pain
Dr. Johnson, Your Houston Chiropractor, provides Chiropractic care for patients with neck pain in the Houston area.
Neck pain is one of the two top reasons people seek Chiropractic treatment. Dr. Johnson, your Houston Chiropractor, has been helping patients overcome neck pain since 1981. Through highly-skilled, gentle Chiropractic spinal adjustments, physical medicine and spinal decompression techniques, our patients are able to get back to and enjoy normal, active and pain-free life.
Chiropractic Care for Subluxation
Dr. Johnson, Your Houston Chiropractor, provides Chiropractic Care for Subluxationsubluxation.
Subluxation is a term used in the chiropractic field to describe what happens when one of the vertebrae in your spine moves out of position. Subluxation is a result of the spine in which alignment, movement integrity and physiological functions are compromised due to functional, structural, and/or pathological articular changes. Chiropractic ajdustments can correct subluxation and restore misalgined vertebrae into proper poisitions.
Chiropractic Care for Sciatica
Sciatica is a common reason why people seek Chiropractic treatment from your Houston Chiropractor Dr. Johnson, who has been providing Chiropractic treatment for sciatica since 1981.
Sciatica is a painful symptom of a nerve compression that makes standing, walking and sitting painful. Sciatica pain comes in different intensities and takes different forms, but usually appears in the form of persistent pain in one buttock that goes down the leg. Tingling or burning pain can sometimes numb or weaken the leg. Sciatica is not a condition by itself, but a symptom of a pinched sciatic nerve.
Spinal decompression in Houston, through Chiropractic manipulations or adjustments, alleviate pain.
Dr. Johnson performs spinal decompression to relieve pressure from spinal discs to reshape and rehydrate injured, bulging or herniated discs and reduces pressure on the pinched nerves, resulting in pain relief. Dr. Johnson carefully positions patients on a specially padded table to stabilize the hips and lock into position before performing a quick pull at the top of the spine, stretching and releasing every single vertebra.
Chiropractic Care for Back Pain
Choose all natural Chiropractic adjustments and physical medicine from your Houston Chiropractor, Dr. Johnson, for lasting relief form aches and pains.
Studies estimate that 85% of Americans will suffer from disabling low back pain at some point in their lives. Among people seeking alternative non-surgical back pain relief, most choose chiropractic treatment. According to WebMD, about 22 million Americans visit chiropractors annually. Of these, 7.7 million, or 35%, are seeking relief from back pain due to sports injuries, car accidents and aging.
Chiropractic Care for Car Accident Injuries
Get a drug-free pain relief from car accident injuries through natural Chiropractic care.
Are you suffering from back or neck pain due to a car accident? Car accident injuries can cause long-term traumatic damage to the musculoskeletal system, leading to years of chronic pain. Your Houston Chiropractor, Dr. Johnson, has decades of experience providing drug-free Chiropractic care for spine injury pain relief through gentle Chiropractic manipulation to re-align your spine so you can live an active and pain-free life.
Award-Winning Houston Chiropractor
Natural Chiropractic Care Helps Houston Patients Regain Their Health and Wellness and Improve Quality of Life
Dr. Gregory Johnson is a caring and highly-experienced chiropractor who has your best interest in mind. He takes the time to listen to your needs and concerns. He was named Doctor of the Year for Houston Metropolitan District 11 by the Texas Chiropractic Association. Advanced Chiropractic Relief was establised to help patients find pain relief and achieve wellness through safe, effective, natural and non-invasive Chiropractic care.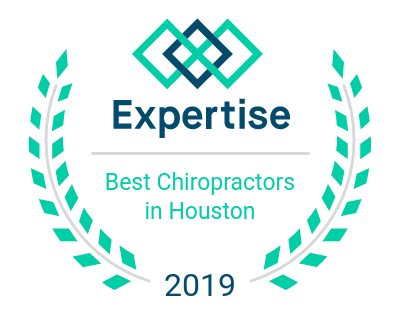 Winner of Best Chiropractors in Houston 2019
Our goal is to connect people with the best local experts. We scored chiropractors on more than 25 variables across five categories, and analysed the results to give you a hand-picked list of the best chiropractors in Houston, TX. The five categories included: Reputation, Credibility, Experience, Availability, Professionalism.
Advanced Chiropractic Relief LLC Videos
Remarkable 5 Star Ratings for Advanced Chiropractic Relief LLC
5 Stars Ratings – 131 Google Reviews
For over three decades, patients from Houston and across the country have shared countless stories of how Dr. Gregory Johnson's chiropractic care have changed their lives.
Tour Our Office
Upcoming Documentarty
Houston Chiropractor Dr Gregory Johnson as well as other prominent Texas Chiropractors have been featured in an upcoming documentary about the benefits of Chiropractic care entitled "Who's Your Doctor? Choose Chiropractic First." This documentary shows how people benefit from Chiropractic care rather than more invasive medical procedures and how people can avoid taking dangerous drugs and avoid neck and/or back surgeries when they receive Chiropractic care first rather than suffer with spine pain and other musculoskeletal conditions of the human body. The documentary was shot in Houston Texas the week of December 3rd-12/08/2018 by the Sager Group LLC. This is a very educational documentary which will inform the public about Chiropractic care as well as what is going on in the state of Texas with the longstanding fight between Texas Chiropractors and the Texas Medical Association trying to take the people of Texas's rights away to choose Chiropractic first rather than medicine. With the opiod epidemic being high on the public's mind as well as the government's agenda Chiropractic Care is a viable alternative to traditional medical care. Please watch for updates on Who's Your Doctor? Choose Chiropractic First on the world wide web and other prominatie media outlets.

Request an Appointment With Your Houston Chiropractor
Get started, take the first step! Request an appointment for chiropractic care consultation with Dr. Gregory Johnson by filling out the form below. We will respond within 48 hours after you submit the request.